Japanese has many things to do in New Year. Japanese has custom to visit temples or shrines in New Year. This is called Hatsumode in Japanese kanji character 初詣. Many people has no religion in Japan, but even if not Buddhist believers, in order to pray for happiness and health in the New Year. The famous places are very crowded in New Year eve to New Year three days.
The TV News said that the foreigner has been increasing in these years. This year also same. Japan is good country I also think but Hatsumode is very crowded every year. There are many temples to visit to Hatsumode. I will teach you the famous ranking and the number of people come.
1) Meiji Jingu 明治神宮 Tokyo 3.16 million people
2) Kawasaki Taishi 川崎大使 Kanagawa 3.02 million people
3) Naritasan Shinsyoji 成田山新勝寺 Chiba 3.00 million people
4) Sensouji 浅草寺 Tokyo 2.83 million people
5) Fushimiinari Taisya 伏見稲荷大社 Kyoto 2.70 million people
Many people would visit to temples.
I and my wife not like crowd situation so we went Hatsumode today. Today is already 5th and many people had started to working. We live in Miyagi Tohoku. In Miyagi there are famous Hatsumode points. The most near point is Shiogama temple. I was working in this area about four years ago as an oil tank semi-trailer driver. This area was very good old and nice place.
Siogama shrine is nearby Hon-Shiogama Station of Senseki line. The Hon-Siogama station to Siogama shrine is about 7minutes by walk. There are many stations named like shiogama, so please be carefully. Higashi-Shiogama of senseki line is not, Nishi-Shiogama of senseki-line also not, this station is Hon-Shogama. In Tohoku-Honsen there is also Siogama station. This name is only Siogama. This station to Shrine is about 20 minutes I think. There are many stations in Siogama City.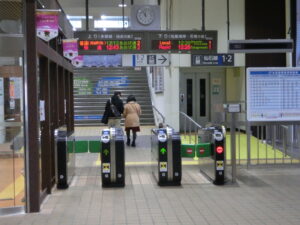 Siogama Shrine is placed on the top of the small mountain. To go shrine, we must climb the stairs. But this stairs are so beautiful. There are small rest house in the middle of climb to stairs. I and my wife rested in and enjoy Japanese traditional drink Amazake. This is very good. Hot Amazake was sold 200yen.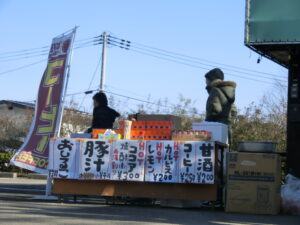 rest station. amazake is delicious.
We had arrived Shiogama shrine on the top. We had pray of piece and health and draw a fortune. There are many person on the top of mountain. We came to walk but someone came to by car or bus I think. There are also many office worker in the Shrine. The office workers also prays that their work will well done in this year.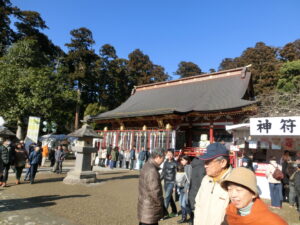 Today was very good day and I had taken many photos in good lighting. I introduce some photos so please enjoy also photos. New Year's shrine is congested but it is a very quiet and good place usually.